Aromatherapy Massage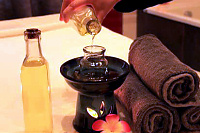 High-quality essential oils are applied and massaged into the skin. The delightful scents of the oils permeate the air, entering the body via respiration and through the skin. They serve to prevent many physical ailments and have a calming, invigorating, and relaxing effect on our well-being. An aromatic oil massage is an experience for body and soul.
Classic-
Thai Massage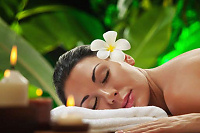 The classic Thai massage always focuses on the entire human body and is a combination of kneading, acupressure, energy work, and relaxation. It is performed with feet, elbows, knees, and the ball of the thumb. Different energy channels and energy points are massaged rhythmically. Metabolism and muscular circulation are stimulated.
Herbal Stamp Massage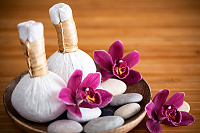 The herbal stamp massage traces its origins to the Far Eastern healing methods. The application with herbal bags heated in steam is a millennia-old tradition which serves not only the physical, but also mental, spiritual and energetic level.
It serves to dissolve blockages and has a harmonizing effect.
Thai-
Yoga-Massage
This massage originates from the yoga tradition. The body is stretched (passive yoga) with a firm grip, the joints are mobilized and various stretching positions are taken with the help of the best trained masseuse.
The problems of the musculoskeletal system are specifically addressed.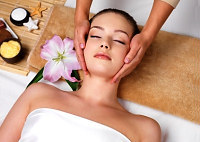 Facial Massage
For people in Asia, facial massage is part of the daily beauty and health treatment and is very beneficial. This massage relieves tension and makes the face look much more relaxed. It also counteracts the first small wrinkles and noticeably improves the facial skin.
Thai Massage / Price List
Thai Massage is a holistic relaxation therapy that is performed via gentle pressure with hands, elbows, feet, and knees. You will then feel reborn. Try our classic massage or aromatherapy massage.
Classic Thai Massage is perfect for those who want to escape everyday stress. Traditional massage techniques such as kneading and stretching promote both relaxation and muscle tone. The metabolism is activated and muscle circulation is also enhanced.
Aromatherapy Thai Massage induces relaxation throughout the body. It is particularly suitable for the reduction of tension and stress. It provides vitality and energy.
We also have Massage Voucher for 5 or 10 treatments.
Classic-, Aroma-,
Yoga Massage

30 min =          35€
45 min =          48€
60 min =          58€
90 min =          85€
120 min=        110€

Foot-Massage

30 min =          35€
45 min =          48€
60 min =          58€

Herbal Stamp
Massage

90 min =          105€
120 min=        135€

Face-Massage

30 min =          35€
40 min =          45€
60 min =          58€


Location
How to find us:
Access also possible via Praterstr. 42 (passage to Czerningasse / left in 2nd courtyard).

Parking:
We have free parking at the corner - please reserve when scheduling a treatment.

Public Transportation
U1 Station Nestroyplatz
Take the lift (middle of platform), then turn left via Praterstrasse directly to house number 7.

Bus line 36A, 38A, 56B, 59A
Czerninplatz, in the 02nd district of Leopoldstadt, formerly Schabdenrüsselgasse, has been named after Johann Rudolf Graf Czernin (1757-1845) since 1882. He was president of the Academy of Fine Arts and established the collection of copper engravings and paintings there in 1800.
Contact:
Maneefah Thaimassage
(Classic Thaimassage -- Wat Pho Tradition)

Czerninplatz 7, 1020 Wien
Tel.: 0660 999 7878
Homepage: www.maneefah-thaimassage.at 


OPENING HOURS
Mo - Fr 10:00 - 21:00
Sa & pub. Holiday. 12:00 - 19:00
Sunday: Closed
You can also contact us for your booking
Tel.: 0660 999 7878